Match Report from Lockdown Live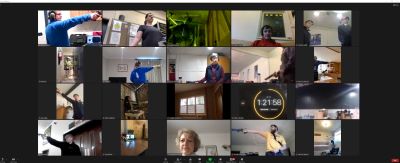 From bedrooms and barns, kitchens and corridors, gardens and garages. In a show of their desire to compete and test themselves, BPC Members joined the Club's first virtual 60 shot match over Zoom.

The day started with technical support at 09:00 as the athletes set themselves and their web cams up to give the best view of their personal firing point and try to recreate that feeling of looking down the line to see the other competitors.
The qualification match began with the 'Athletes to the Line' call at 09:30 and thereafter followed the ISSF timings for paper targets, at 1hr and 30 minutes for the match. Thanks to the innovative approach of our Range Officer for the day, BPC Committee Member and ISSF RO Peter Turner, the athletes were able to view a match timer on their screens and receive the range commands as they would do in a normal match as well as listen to background music in the Finals.
This was a very different type of competition from the weekly Lockdown League, with scores submitted for verification via photos, Scatt files and TargetScan printouts. Jeremy Pitman shot an impressive 573, the top qualification score for the day, whilst Minerva Singh (Senior Women), Sam Allen (Junior Men) and Raissa Vickery (Junior Women) all won their respective qualification classes. Impressively, Raissa shot 15 inner tens in her match, the highest of the day. The reports back from the field showed that many felt the lack of recent live match practice, not to mention the freezing conditions for those shooting outside or in their barns and garages.

Due to the constraints of time and numbers it was decided to run just two finals, one for a combined Junior & Senior Men and one for a combined Junior & Senior Women. Given this, it was great to see the competitiveness of Sam Allen and Toby Aberdeen as they went up against seasoned campaigners such as Kristian Callaghan and Matt Reed and their many years of high level experience. The end result was a close one with Jeremy Pitman shooting an excellent 238.0 to take 1st place ahead of Kristian in 2nd and Matt in 3rd.
It was the Juniors who struck a blow for the future of the sport in the Women's Final, with Harriet Watson showing some excellent consistency (not to mention composure when her internet went down mid-Final!) to take 1st place ahead of Scarlett Garner in 2nd and Minerva Singh in 3rd.
Many thanks are due to Peter Turner for running the virtual range, Oliy Tozer for his backend support in hosting the Zoom call, and all the athletes, spectators and coaches who joined the call as well. It all added to the atmosphere and the BPC is hopeful that this is a format that we can refine and improve upon in the months to come

The full results: BPC Lockdown Live Results